The weather's getting warmer, flowers are blooming, and the days are getting longer. That's right, springtime is here! Spring is a time to refresh and renew, not least of all with your home. Here are our top 7 tips for a successful spring clean in 2019, plus a free, printable checklist for every room in your home.
1. Set aside time in your schedule.
Spring cleaning can take a good amount of time, especially if you haven't been keeping up with it throughout the year. Block off enough time in your schedule to allow you to be as thorough as possible and reduce the stress of too many obligations at once so you can stay focused.
2. Wear protective gear.
This is especially important if you suffer from dust allergies. Spring cleaning will stir up all the dust in places that haven't been routinely cleaned throughout the year. Also, chemicals in many household cleaning products can irritate your skin or give off fumes. Wearing gear such as glasses, a face mask, and gloves will help protect you while you get the job done.
3. Work from top to bottom.
In every room, start at the top and work your way down. As you clean, dust and debris may float down. By working from top to bottom, you'll reduce the need to go back over areas you've already cleaned.
4. Make it fun.
Cleaning and decluttering are called chores for a reason, but that doesn't mean you can't make it as enjoyable as possible. Put on your favourite playlist or current audiobook, bring the whole family together, or enlist the help of some friends (in exchange for yours in return) and make a party out of it. Celebrate afterwards with a reward like a nice dinner out, so you don't have to cook and have something to look forward to.
5. Gather all the supplies you'll need beforehand.
To keep things running smoothly, make sure you're prepared and have everything you need to clean the house. Good things to have on hand are a general all-purpose cleaner; window cleaner; bathroom cleaner; re-usable rags; vacuum; mop; and any filters you need to replace throughout your home. If you need to rent larger items like a power washer or steam cleaner, reserve them ahead of time for the day you've planned your cleaning.
6. Update your routine.
Take note of any areas you missed throughout the year, and add it to your regular cleaning routine. That way, the next time spring cleaning comes around, you'll have a much easier time.
7. Take it a step further.
Spring cleaning is an excellent opportunity to refresh your home past just giving it a good, deep clean. Rearranging furniture or swapping out decorative accents is a great, low-investment way to make your home feel brand new. Take the chance to make some changes that will give you the most enjoyment out of your newly clean home for the rest of the year!
Spring Cleaning Checklist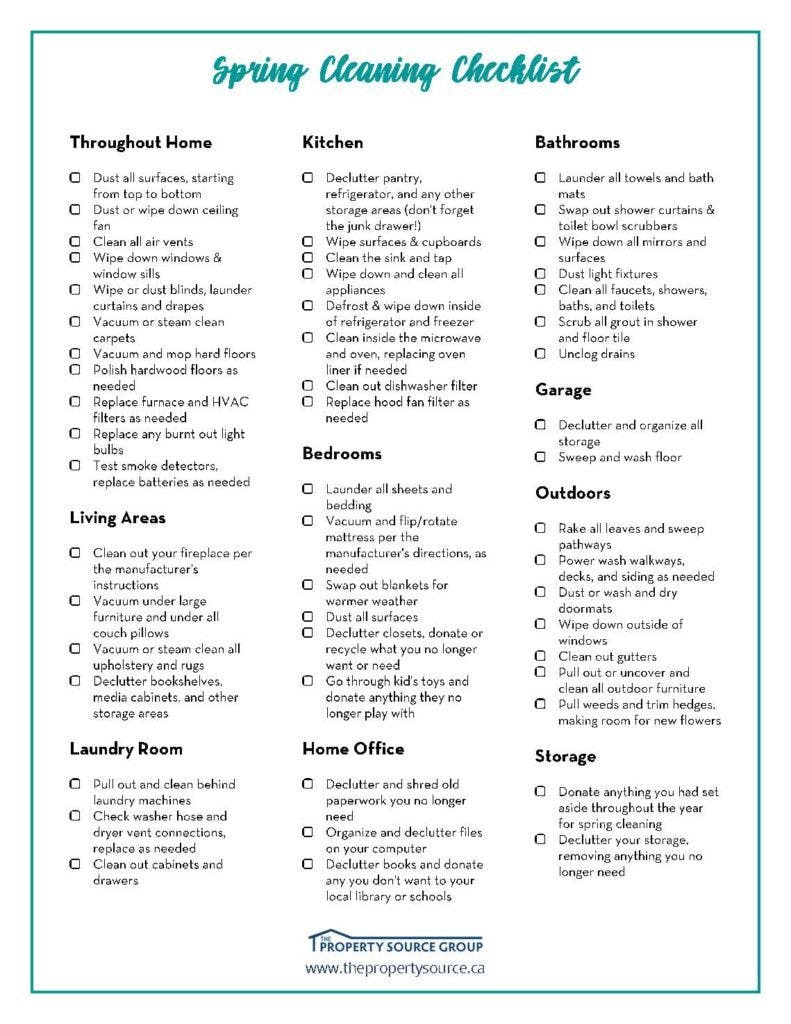 Click here to download our printable spring cleaning checklist!