Kelowna is well-known as a top vacation destination in Western Canada. It's not much of a secret why, considering the Okanagan's gorgeous weather, beautiful natural landscape, and access to plenty of recreation, dining, and wineries.
If you're lucky enough to live in Kelowna, however, you have access to some amazing places to travel just within the Central Okanagan. Driving one or two hours north or south of the city will take you to wonderful new places to explore. Here are our top five road trips to take from Kelowna with highlights of what to do along the way.
North of Kelowna
Lake Country
Driving north out of Kelowna along Hwy 97 for a mere 20 minutes takes you to Lake Country, aptly named as it's nestled between Okanagan Lake and two other lakes: Ellison Lake and Wood Lake. It's a charming pocket with plenty to explore as a day trip from Kelowna, or a stop along the way to areas further north.
Highlights
If you enjoy wine, there's plenty in Lake Country to explore. A couple of our favourites are Gray Monk and Ex Nihilo.
The Rail Trail is a bike path stretching all the way from Kelowna up to Vernon. You can enjoy a breezy lakeside bike ride in either direction from the center of Lake Country.
If golf is one of your hobbies, it's worthwhile stopping in for a round at Predator Ridge Resort, which boasts two 18-hole champion courses alongside world-class amenities.
Visiting Kangaroo Creek Farm is a fun, family-friendly activity that never fails to entertain adults and little ones alike. Enjoy visiting with exotic animals like wallabies, sugar gliders, and of course, kangaroos.
Vernon
Less than an hour drive north of Kelowna is Vernon, at the tip of beautiful Kalamalka Lake. Aside from plenty of recreation and dining to choose from in the town center, there's beautiful nature to explore.
Highlights
Sparkling Hill Resort overlooks the northernmost tip of Okanagan Lake and is a luxurious destination for some much-needed R&R. Their KurSpa offers a variety of soothing treatments, as well as indoor and outdoor pools, saunas – even a crystal steam room.
Driving into Vernon from the south, you won't be able to miss the sparkling emerald waters of Kalamalka Lake. Its beauty is best observed from one of several lookouts throughout Kalamalka Lake Provincial Park – or, jump right in the water from Kal Beach.
Planet Bee Honey Farm is both an educational experience as well as a tasty treat. Watch bees make honey right before your eyes in glass hives, pick up some lovely souvenirs, and taste over 20 types of honey at the honey tasting bar.
Vernon is also home to Silver Star Resort, which if you're reading this article in winter makes for a great ski and snowboard trip. The snow season typically runs from November to mid-April.
Enderby & Salmon Arm
Continuing northward, you'll hit Salmon Arm, about an hour and a half drive north of Kelowna. It's right in the middle of BC's famous Shushwap region, and combines all of the necessary amenities with beautiful nature and outdoor activities.
Highlights
On the way into Salmon Arm, you'll pass through Enderby, where you won't want to miss the Starlight Drive In – the only drive-in movie theatre in the Okanagan!
The Enderby Cliffs tower high above Shushwap River, offering amazing views of the surrounding Okanagan landscape. The hiking trails have recently been updated, so even if you've been before, it's worth going back again.
Shushwap Lake is often referred to as the houseboating capital of Canada. It offers over 1,000 km of shoreline and 309 square km of lake, perfect for houseboating and swimming to your heart's content.
Mount Ida is perfect for hiking with some stunning viewpoints at the summit. The west peak is easier, while if you're in for a challenge, the east peak is a much more arduous climb.
South of Kelowna
Penticton
Changing directions and heading south, Penticton is a 1-hour drive from Kelowna. It sits in between the southern tip of Okanagan Lake and the north tip of Skaha Lake, offering plenty of beach fun. After soaking in the sun, relax on a patio at one of the many restaurants or craft breweries in town.
Highlights
Taking a dip in Skaha Lake is a great way to refresh yourself from the hot summer Okanagan weather. Sandy beaches stretching along the shore make it the perfect place to park yourself and relax for the day.
The Kettle Valley Rail Trail offers excellent hiking, walking, and biking through nature for the whole family. It's also a great way to catch a glimpse of local nature, like osprey and deer.
The Penticton Farmers Market runs on Saturdays from 8:30 am to 1pm on the 100 block of Main Street. You'll find fresh produce, artisan goods, and handmade crafts all grown and produced locally by the vendors who bring them to the market.
Heading north back to Kelowna but on the east side of the lake, you'll hit the Naramata wine bench. Over 30 wineries and restaurants line the more scenic, backroads drive on the way back up to Kelowna. If you plan on tasting, a guided wine tour is recommended.
Oliver/Osoyoos
Finally, Osoyoos is just under a 2-hour drive south of Kelowna, right on the southern border of Canada. It's a great spot for a trip with friends and family or a romantic getaway, with plenty to see and do especially in summer.
Highlights
On the way down, stop at some of the best wineries in Canada as you pass through Oliver and head further south. Burrowing Owl, Inniskillin, and Jackson-Triggs all call this region home.
Speaking of wineries, you won't want to miss out on Nk'Mip Cellars (pronounced "in-ka-meep") which is the first Indigenous-owned winery in North America. The winery offers a fantastic resort, guided tours of the vineyards and cellars, and a cultural center.
While you're in Osoyoos, make sure to at least dip your toes in Osoyoos Lake, the warmest freshwater lake in Canada, with reported average summer temperatures of 24 degrees Celsius.
Finally, take a drive up Anarchist Mountain to the stunning lookout at 4,045 feet with views of the Okanagan Valley as well as Washington State.
Interested in making a move to Kelowna so you can enjoy the best of Okanagan living? We can help – contact us today!
Pin for Later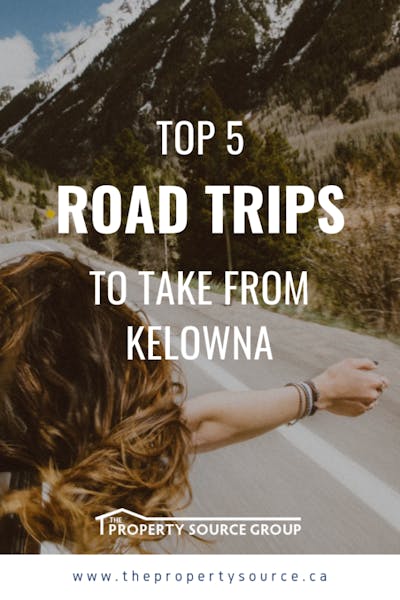 Featured photo by averie woodard on Unsplash