It's just common sense that home sellers want their home to sell fast and for the highest price possible. But how do you actually make that happen? In this article, we're sharing our top 5 tips that will help you sell your home faster and for more money.
1. Know the market
There are two types of markets. A buyer's market occurs when there are more properties for sale than there are buyers (and lower demand). Conversely, a seller's market is when there are more buyers than there are properties (and thus higher demand). To determine whether you are in a buyer's or seller's market, speak to your Realtor. They will look at statistics including number of days on market for homes in your area as well as appreciation rates to help them determine demand. The type of market you are in will inform your pricing and impact your ability to negotiate.
2. Sell at the right time
The real estate market flows with the seasons, typically moving faster in the warmer months (spring and summer) and slowing down through winter. Listing your home at the peak of the market might help it sell faster, but you should also consider external factors such as what works for your family, your finances, and your career.
3. Price it right
Overpricing means your home may linger on the market, while underpricing could leave money on the table. Your Realtor should have a good idea of how to price your home based on comparable sales in your neighbourhood, as well as how motivated you are to sell.
4. Prepare your home to sell
If your house is dated or needs repair work, it may be worthwhile to do some of that work upfront so that your home presents itself better to buyers. They say that buyers give you 6 seconds to make a sale – 3 seconds from the curb, and 3 seconds from the foyer. With that in mind, quick fixes such as a new coat of paint or a new appliance package could be the difference between making or missing a sale. If more major work is needed, kitchen and bathroom renovations typically add the most value when selling a home – speak to your Realtor about what repairs or updates will give you the most bang for your buck.
5. Work with a trusted Realtor
A Realtor is a small investment that could potentially make you much more in the sale of your home. Realtors help advise you on home repairs or updates, price your home based on market data, actively market your home to buyers, schedule showings, negotiate, and handle all of the required paperwork. Realtors have the experience needed to price and market your home effectively, allowing you to sell faster and for more money than if you were to FSBO (for sale by owner).
Thinking of selling your home? We can help with that! Contact us today for your FREE market evaluation and marketing plan.
Pin for later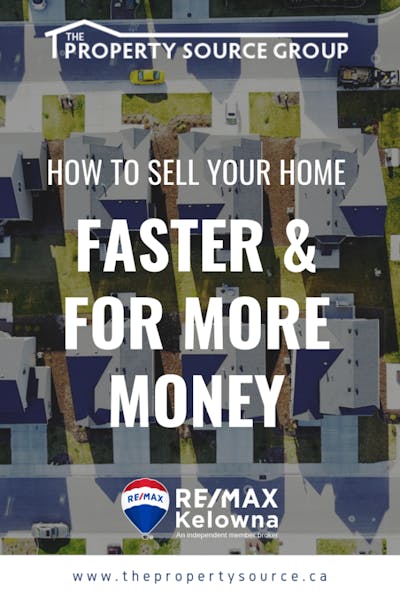 Featured photo by Blake Wheeler on Unsplash