Pets are wonderful companions that bring a lovely energy to any home. However, they can also bring a lot of mess! Here are our top tips for keeping your home clean when you have pets.
1. Stay on top of grooming.
Keeping up with your pet's maintenance routine can stop mess before it happens. Regularly bathing, brushing, and trips to the groomer's will reduce the amount of fur your pet sheds and keep odours minimized. Don't forget to regularly trim your pet's nails; dogs can easily scratch hard surfaces like wood floors. For cats, soft claws are a great way to protect from scratching furniture and rugs.
2. Invest in a quality vacuum.
Certain vacuums are designed for pet owners, with more suction to pull dirt and hair out of deep carpets. A robotic, automatic vacuum is also a great idea for keeping your floors tidy in between your regular deep cleans.
3. Stop dirt from coming in.
Use door mats at entrances to your home to catch any mud or dirt on your dog's paws after a walk. Keep some supplies inside the door, like a spray bottle and towels to clean off muddy paws. For cats, place a mat with grooves in front of their litter box to catch any litter stuck to their paws so they don't track it around the house.
4. Use low-pile, outdoor rugs.
These are typically more durable and easier to clean as they're meant for the outdoors. Cover high-traffic areas in the home and use them in spots your pet likes to lounge around.
5. Keep furniture protected.
When it comes to your furniture, select dark fabrics that are stain resistant, durable, and easy to clean. If possible, use removable covers on sofa pads, pillows, and chairs so you can easily remove them and wash them. Otherwise, cover your pet's favourite spots with a towel, sheet or decorative throw that can easily be thrown in the wash.
6. Keep mealtimes clean.
Most of the mess occurs around a pet's feeding area. Use a place mat or tray under their food and water bowls to catch food and liquids.
7. Regularly wash your pet's toys, leashes, and beds.
It's not always intuitive to wash pet toys, but they are actually the source of a lot of pet odour. Washing them regularly can help reduce this.
8. Use pet-friendly air fresheners.
Avoid toxic ingredients in your cleaning and home fragrance products. If you choose to DIY, which can be a more natural and environmentally-friendly solution, ensure it's safe for your pets first (for example, some essential oils can be harmful.)
9. Organize toys to reduce clutter.
Finally, reduce the clutter of your pet's things in your home by keeping toys stored in a cupboard or in a decorative box. Go through them regularly to see if there are any you no longer use so you can clean and donate them.
At the end of the day, most if not all pet owners will tell you their furry friends are worth the mess. Hopefully these tips help keep it contained so you can spend more time enjoying your pet rather than cleaning up after them.
Pin for Later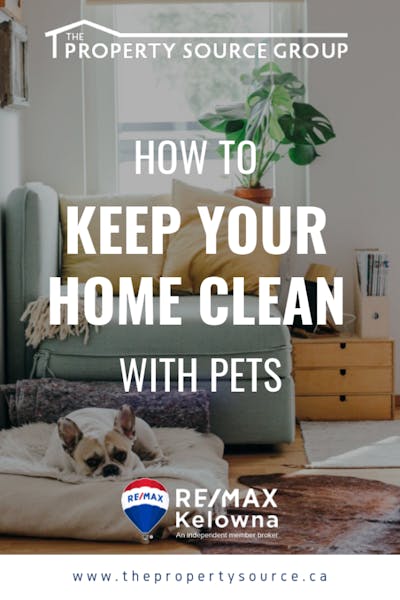 Featured photo by Brina Blum on Unsplash